Apple is a global company that produces software and hardware and operates in international market. For the company, power of consumers is high because they determine the prices of products, their assortment and functions. The power of suppliers is high as well since Apple has about 200 suppliers and they are located in different countries. The company is able to set prices and the quality of their products. However, the threat of substitutes is significant, especially in the market for smartphones where Android phones are becoming more and more popular. In the market for personal computers, Apples position is more stable. Competitive rivalry in the market is essential, and the main threat for Apple includes Chinese producers of smartphones that offer smartphones at low prices.
Apple has enormous opportunity for growth, especially in the developing countries. However, the competition is also high, and it is strengthened by the fact that Apples products are quite expensive, their choice is limited, and they are not compatible with many devices and software of other producers. Thus, the main current strategic challenge for Apple consists in competition caused by the facts mentioned above. In order to overcome challenges, Apple can make customers more loyal to brand, increase product choice and their compatibility. The company can also cut prices for its products and try to expand to developing countries markets.
Need custom written paper?
We'll write an essay from scratch according to your instructions!
Plagiarism Free
Prices From only 10,99$/page
Environmental Scan
Five Forces Analysis
Bargaining power of consumers. In regard to the majority of companies that produce high-technological products, customers are particular about the quality of Apples products, and the company should produce what their clients demand to sell more and succeed in the market. Although Apples prices are relatively high compared to its main competitors, they are limited by the power of customers. On the one hand, customers will buy fewer Apple products if prices significantly rise. On the other hand, if the prices become too low, customers may not trust the products and refuse to buy them. Bargaining power of customers also determines what features the products should have: what technologies to use, what designs to create, what functions to add, and so on.
Bargaining power of suppliers. Apple has many suppliers about 200 companies from all over the world. The largest numbers of suppliers are located in China, Japan and the US. The largest suppliers of Apple include BYD, Foxconn, Pegatron, and some others (Supplier Responsibility). As there are many suppliers, their power is significant. Apple is the company that depends on its suppliers and parts they supply for its electronics. Thus, bargaining power of suppliers is in their ability to set prices, quality of parts and other features. The power influences directly Apples ability to produce high-quality products in accordance with the required parameters and to determine what prices to set on them. Thus, if suppliers change prices or quality, Apple will be forced either to adapt its products to changes or to find other suppliers.
Threat of substitutes. Apple produces different types of products including computers, smartphones, tablets and others. Thus, the threat of substitutes should be studied for each segment. For the segment of smartphones, the share of smartphones by their operating system can be analyzed. Globally, iOS has quite stable share in the market of smartphones. It was 17.7% in the end of 2015 compared to 20.4% in 2014 and 17.8% in 2013. At the same time, the share of the main competitor, Android, is growing rapidly. At the end of 2012, it was 69.7%, and at the end of 2015, it was already 80.7% (Statista). Thus, Android phones provide significant threat of substitutes.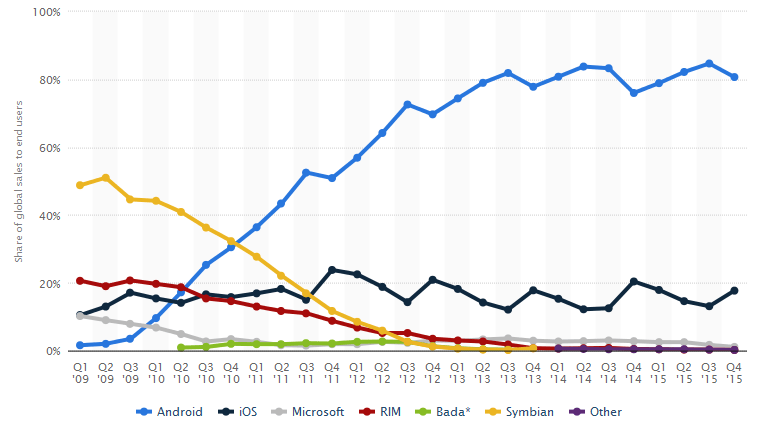 In the global market of personal computers, the threat of substitutes seems to be not so significant. The market share of MacOSX is quite stable about 9.8% currently. The main competitors are Windows 7, Windows 8.1 and Windows 10. However, their market shares are stable, as well (Statista).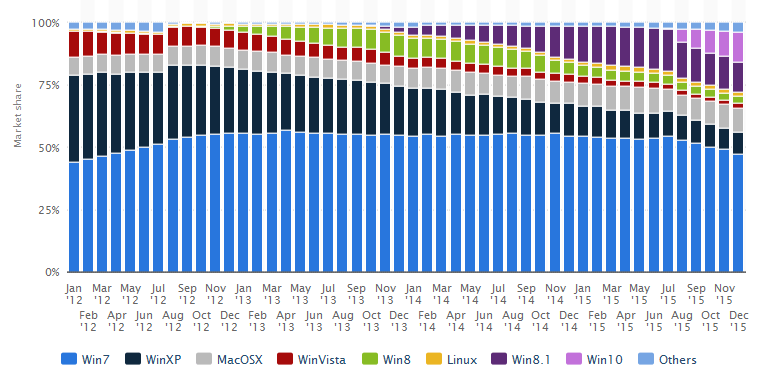 Competitive rivalry in the industry. Apple operates in several industries, and two largest of them are personal computers market and smartphone market. In the personal computers market, the main competitors of Apple are Lenovo, HP, Dell and Acer Group. In 2015, global market share of Apple computers was 7.5% compared to 6.3% in 2014. Apples shipments of computers grew by 6.2% from 2014 to 2015 (Sellers). In the global smartphone market, Apples share is quite stable, as well. It was 13.9% in the second quarter of 2015 compared to 11.6% in 2014 and 12.9% in 2012. The main competitors of Apple are Samsung, Huawei, Xiaomi, Lenovo and others including a number of Chinese producers with low prices (Smartphone Vendor Market). Thus, Apple holds rather stable position in PC market, but its position is weaker in the market of smartphones. The main competitors here are numerous producers, mostly Chinese ones that offer smartphones at low prices.
Threat of new entrants. Apple operates in highly technological industries where there are traditionally not many competitors. It is hard to enter the industries because modern technologies are very expensive to purchase or develop. The company needs much money and resources to produce computers, tablets or smartphones. In addition, in those markets, consumers usually trust particular famous brands, and it is hard to create a good image quickly. Thus, the threat of new entrants is quite low.
SWOT Analysis
Established and famous brand that is trusted by loyal customers.
High quality of products and good customers support and warranties.
Products are developed with the use of latest trends and technologies.
Global presence.
A wide variety of products: personal computers, laptops, smartphones, tablets, players, accessories, etc.
Apple produces both hardware and software.
Relatively high market shares in the global markets for personal computers and smartphones.
Relatively high prices for all products.
Low compatibility of most products, with hardware and software produced by other companies.
The choice of products in each product line is quite limited. For example, customers are enabled to choose among only several smartphones, PC or laptop models.
The position in global smartphones market is not stable as market share has a tendency of decline.
Apple has more than 200 suppliers globally, and it may be quite hard to work with all of them efficiently.
Ability to grow further with the development of new models of gadgets, as well as new software for them.
Ability to expand in the global market for PCs as the current trend shows the growth of computer sales and can be continued if the company adopts a wise sales and promotion policy.
Ability to expand to countries that develop quickly, such as India or China, as there are more and more rich people appearing there, and Apple products are usually considered luxury in developing countries.
Ability to have more loyal customers by offering more hardware models to choose from, as well as making them more compatible, with software and hardware made by other producers.
Ability to gain more customers by offering new product lines with lower prices.
Apples position in the market of smartphones is not stable, and the tendency shows the decline of its market share during recent years. If the tendency continues, Apple will suffer from lower sales and revenues.
Threat of numerous competitive producers of smartphones, especially Chinese companies that gain high market shares by offering relatively low prices for their products compared to prices of Apple, Samsung and other leading producers.
If competitors lower prices and offer a wide choice of compatible PCs and smartphones while Apple continues offering the narrow choice of expensive incompatible products, customers may prefer competitive products.
Apple has many suppliers, and it may be hard to control them all. Thus, the company may suffer if their products become more expensive or have lower quality. Thus, it may become difficult to find new suppliers quickly.
The Current Strategic Challenge
The current important strategic challenge for Apple is issues with competition in the global market. Although this company has quite stable position in the US market, its place in the global market is less significant, especially in the global market for smartphones where Apples share is declining. This tendency appeared with the fast development of competitors, especially Chinese producers that offer smartphones for relatively low prices compared to global top brands. Apple has risks in competition for a number of reasons. First, its products are relatively expensive, and many consumers, especially those with low incomes and from developing countries, are likely to prefer other brands. Second, the choice of Apple products is quite narrow: only several models in each line. Thus, consumers may refuse to buy Apples products if they cannot find among them what they exactly need. Third, Apple products are not compatible with many hardware and software products of other producers. Thus, consumers who prefer flexible products may refuse obtaining Apple products. Fourth, Apple has many suppliers from different countries, and it may become difficult to control them all and mange potential issues with supplied products. All those facts contribute to potential risks in Apples ability to compete successfully in the global market.
Recommended Action
In order to cope with the current strategic issue, Apple should focus on such steps.
Lower prices for some products to reach more consumers, especially those in developing countries.
Focus more on the markets of developing countries where there are more and more people with high incomes.
Offer a wider choice of products to attract more loyal customers.
Make some products more compatible to attract loyal customers who prefer flexible products.
Focus more on brand and its benefits in order to attract more customers.
Try to cut the number of suppliers in order to control them more efficiently.
Balanced Scorecard
Strategic Priorities

Objectives

Measures

Targets

Initiatives

Financial

Optimize costs in order to make prices for products lower

Cut costs

Increase market share

Costs

Market share increase

2017: 80-90% of current

2017: increase by 1-2%

Customer

Focus on brand and its benefits

Make a wider choice of products

Make products more compatible

Promote the brand

Expand product assortment

Increase compatibility

Percentage of loyal customers

Number of models

Compatibility

2017: growth by 5-7%

2017: growth by 1-3

–

Providing more surveys among customers

Internal

To optimize working with suppliers by cutting their number

To decrease the number of suppliers

The number of suppliers

2017: 150-170

2018: 140-150

Creating a management group to find new suppliers

Learning and Growth

To expand to the markets of developing countries

To expand to India, China and other countries

The number of countries

2017: 2

2018: 3-4

Creating a team to study local markets and promote Apple products there
Conclusion
Apple is a famous giant company that produces hardware and software. Its position in the global market for computers and smartphones is significant. However, it loses its position in smartphone market. The main strategic challenge for Apple consists in the issues with competition, especially in smartphones market. In order to address this problem, Apple can cut prices, increase product choice, make products more compatible, increase brand loyalty and expand to the markets of developing countries.
Place your first
order NOW
and get
15% Discount