Before you'll start reading this essay sample from our professional writers, keep in mind that if you need a writer's assistance with your papers, you are welcome to buy pre-written essay which means it is unique and will be delivered rapidly according to your deadline. The only thing you have to do is to fill in the order form and the experts will take care of the rest!
Why homelessness is a priority for Utah
Individuals who experience homelessness have to overcome hardship and suffer from discrimination and alienation fueled by stereotypes. First of all, individuals who are homeless are exposed to increased air pollution which may result in chronic obstructive pulmonary disease (COPD). Most homeless people also suffer from mental illnesses. Homelessness may also complicate the treatment of several illnesses, and this poses a risk to homeless people. According to Baggett et al (1328), pustular skin lesions, which result from insect bites, are common infection among the individuals who are homeless. Other diseases that may affect homeless people include acute nonspecific respiratory diseases, diabetes, and hypertension. Moreover, most homeless individuals are addicted to drugs. Over 13 621 people in Utah experienced homelessness in 2014 (Day et al. 9). Of the total individuals without homes, 45 percent are the ones with families, while 54 percent are single. Although this figure is significantly huge, Day et al. (8) believe that homelessness has steadily declined in Utah since 2012. This problem is specifically alarming given that over 10 percent of the homeless individuals live on the streets and places not appropriate for human habitation (Day et al.8). Furthermore, over 4 percent of the homeless people prove to be individuals with chronic homelessness (Day et al. 10). Of the total homeless in Utah, 12 percent live in rural areas, while 88 percent live in urban areas. This is a problem for the development of urban centers in the state. The problem is compound by the fact that the state was ranked as the 32nd one regarding homelessness in the country. Homelessness of school-aged children and youth also hinder the success of education programs in the state.
COPD is a group of lung conditions which cause breathing difficulties. Although this condition mainly affects the older individuals, it may also affect youngsters who have constant exposure to poor airflow and air pollution. Homeless people are exposed to direct air pollution, and have long term exposure to irritants (Baggett et al.). This may cause inflammatory responses, which eventually narrow small airways and break down lung tissue.
Need custom written paper?
We'll write an essay from scratch according to your instructions!
Plagiarism Free
Prices From only 10,99$/page
Causes of homelessness, results of which increased obstructive pulmonary disease in the state of Utah, primarily involve lack of affordable, available, and adequate housing. According to Redd et al. (154), this problem is of great concern because apart from rates of poverty, homelessness can contribute to suffering individuals who can develop social and psychological problems. Most homeless people in Utah lack adequate income from public and employment sources relative to the living costs in the state. Others are disabled, divorced, or lack health insurance. Domestic violence and exhaustion of family and friends resources are also major causes of homelessness in Utah.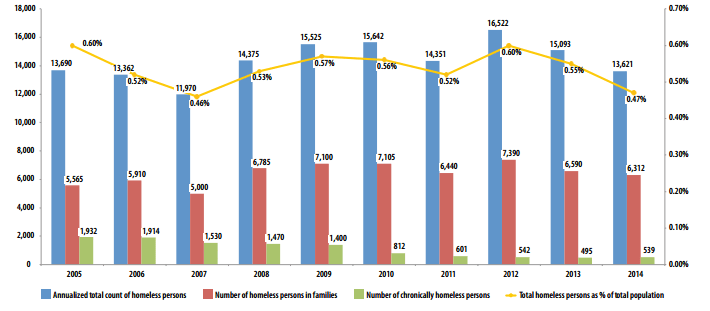 Figure 1: Homelessness in Utah between 2005 and 2014 (Day et al. 9).
Literature review on Prevention strategies as solution to homelessness and COPD
According to Culhane et al. (298), homelessness prevention strategies are primarily associated with public health paradigm. This paradigm considers three preventive intervention levels, including primary, secondary, and tertiary. These three categories should always exist along a continuum rather than as discrete measures. The aim of primary prevention strategies is to reduce risks by working upstream with the help of universal interventions for communities at risk of homelessness. They include educational programs and information campaigns and strategies interventions, which can help to address problems that are likely to lead to homelessness. Some of them are implementing poverty reduction strategies, early childhood support, anti-violence campaigns, and anti-discrimination strategies which can all assist in reduction of homelessness.
Secondary homelessness prevention strategies have a goal of identifying and addressing homelessness problems at an early age. Redd et al. (154) illustrate that this strategy targets specific groups of individuals who recently became homeless. Such individuals are at high risk of contracting obstructive pulmonary disease due to their exposure to insects and cold. This strategy involves working with mainstream public institutions so that the flow of individuals from mental healthcare, corrections, and child protection can be reduced. The early intervention strategies are aimed at working quickly in order to help families and individuals be able to retain their houses or use their rapid rehousing strategies to ensure that people can move into appropriate and safe accommodation that can satisfy their needs.
Redd et al. (154) believe that tertiary homelessness prevention strategies are aimed at slowing the progress of a condition or treating a given condition through strategies, such as rehabilitation and reducing the occurrence of a given problem. This implies that individuals will moved into houses where they will be provided with necessary support that can help to reduce the probability that they will ever experience homelessness again. The problem, therefore, is not only to get people into houses, but also to ensure they have housing stability. Having houses will reduce exposure to air pollution and thus a reduction in OCPD.
Justification for the Policy
According to Culhane et al. (306), prevention as a strategy to curb high rates of homelessness provides a comprehensive system of care to the affected and the non-affected individuals. Prevention programs are beneficial because they not only address the plight of the affected population, but also spread its effects to other members of the society. For example, when education programs and information strategies are implemented, they not only reach homeless individuals, but all citizens of Utah thereby increasing their awareness of the possible factors, which can increase their susceptibility to homelessness. Parsell et al. (36) illustrate that prevention strategies are only a third as expensive as compared to other homelessness strategies. Prevention strategies also take a long-term approach to addressing the problem. It requires cooperation of all members of the society and various levels of governments including the state, local, and the national governments. This wholesome approach ensures that everyone is actively involved in preventing and reducing homelessness thereby leading to significant reductions in stereotypes and discrimination of homeless population.
Expected Outcomes
It is expected that these interventions will reduce the prevalence of COPD in the state of Utah, and that homelessness prevention strategies will ensure that all Utah communities develop a positive aspect and perception concerning the need to end homelessness in the state. Education programs and information campaigns are expected to increase awareness among the population of the factors which can make individuals susceptible to homelessness. Increased awareness of risk factors is important because they can be used to help prevent individuals from being homeless. Consequently, there will be a significant reduction in persons with mental illnesses, diabetes, heart diseases, pustular skin lesions, and obstructive pulmonary diseases.
Secondary and tertiary strategies, such as moving individuals into housing ad providing support aimed at ensuring that they do not face homelessness again, are expected to reduce the rates of homeliness by over 50 percent (Culhane et al. 301). This is specifically important as it will prevent people from suffering and discrimination by making them independent individuals who can make their decisions appropriately.
In conclusion, homelessness is a public health problem that has affected the growth of communities in the state of Utah for a long time. The current homeless prevalence rates are relatively low due to the government efforts. However, the public health sector should take a preventive approach in order to prevent individuals from being homeless, and help them attain housing and independence. This approach will ensure that the general population has more knowledge concerning homelessness risk factors and is supportive of the homeless individuals, thereby reducing the prevalence of homelessness by over fifty percent.
Place your first
order NOW
and get
15% Discount