Before you'll start reading this essay sample from our professional writers, keep in mind that if you need writer's assistance with your papers, you are welcome to buy pre-written essay which means it is unique and will be delivered rapidly according to your deadline. The only thing you have to do is to fill in the order form and the experts will take care of the rest!
I had my internship in Domees company. It is a local Saudi Arabian company that operates in retail sector. It specializes in different makeup products and accessories for women. This company purchases products from Chinese producers and wholesalers, delivers them to Saudi Arabia, and sells via many boutiques throughout the country. Domees includes several departments, and I was an intern in marketing department. In this department, I performed various functions that were similar to those that are generally performed by its marketing specialists and assistants. I conducted surveys among customers in order to determine whether they were satisfied with the company and its products. Based on them, I determined current demand for particular products and the way it changed during a particular period of time. Thus, on the basis of my work, different marketing decisions were made. For example, I recommended marketing employees of the department what new products can be introduced to satisfy demands. I also studied information related to beauty products and accessories in order to analyze current trends and make marketing decisions.
My university prepared me to this internship in different ways. It provided high quality knowledge in marketing, business, and other spheres that were related to my internship position due to its professional tutors and international cooperation. I also received good knowledge of English that enabled me to read professional articles and analyze news during performing my internship tasks. Overall, my internship experience was positive for me, and I liked it very much. I understood that the company had good prospects in its sector and received professional knowledge and experience that I plan to use in my future career.
Need custom written paper?
We'll write an essay from scratch according to your instructions!
Plagiarism Free Prices From only 10,99$/page
Company Profile
Title of the company where I had my internship is Domees. Its history began nearly 20 years ago, when it was among the first companies to deliver Chinese beauty products and accessories to Saudi Arabia. Domees was founded to gain profit from growing opportunities to trade with China when Chinese experts were growing fast. The idea turned out to be successful, and the number of branches and boutiques grew fast. Currently, Domees has about 50 boutiques throughout Saudi Arabia and sells nearly 2,000 different beauty products and accessories for women. Nevertheless, the assortment is becoming wider and wider every year.
DomeesВ's full mailing address is…
Speaking about its web links, they include…
Domees is a private company. The information about its shareholders and their shares is private. Domees is a local company, and it operates in Saudi Arabia. The profile of the company includes different makeup products and accessories for women. Domees purchases products in China and then delivers them to Saudi Arabia, where they are sold in many boutiques. Thus the company operates in retail sector and specializes in beauty products as well as accessories.
For Domees company, its customers are individuals who make purchases in its boutiques. They are end users of the products. Domees Company itself is a retailer because it purchases products in Chinese wholesalers and producers and sells them to end users in Saudi Arabia. Domees Company has different groups of employees. In its boutiques, there are sales employees who sell products and deal with customers and, employees who manage foreign purchases from China, thus making contracts with suppliers and dealing with money transfers and product delivery. There are also market and marketing specialists who study local market and demand for makeup products and accessories. They conduct surveys among customers, study current market situation, and perform other activities related to markets and marketing. Currently, the number of employees is about 600. Nearly 500 of these employees work in boutiques as sales personnel, and about 100 employees are administrative employees who work in different departments.
Organizational chart for Domees Company is following: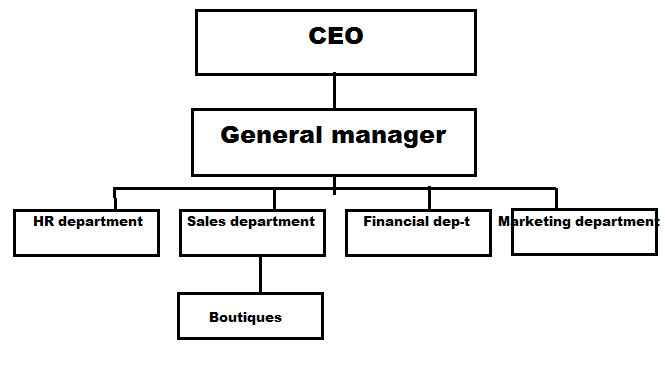 Domees company has several departments, each of which has its own functions. Departments are represented in the companyВ's organizational chart. Sales department is the largest one in the company. It is responsible for purchasing products from Chinese vendors, delivering them to Saudi Arabia, and selling them to the end customers via boutiques. Employees of this department find vendors, sign contracts with them, check the received products, and transfer them to boutiques. Moreover, they coordinate work and responsibilities of employees who work in boutiques, including sales personnel. Sales department is also responsible for customer service, such as dealing with product returns and complaints about the products that were purchased in DomeesВ's boutiques. In turn, financial department includes several employees who are responsible for all financial activities of the company, including accounting and financial reporting. Human resources department is responsible for hiring employees, paying salaries, training of existing employees, retiring employees, and other functions related to employees.
Marketing department is another division within Domees company, and information on it will be more detailed because I had my internship in this department. It includes 9 employees В– 5 marketing specialists and 3 marketing assistants. There is one marketing manager who was my supervisor and marketing specialists and assistants with different functions. They are responsible for market research among potential customers, creation of advertisements, and marketing campaigns for company and its products.
Stuck with your internship report essay? Order now!
Internship Activities
I had my internship from 2013 to 2017. I was a market specialist supervised by…. His position is a marketing manager in the marketing department. This person is a main employee in the department, and he coordinates work and activities of all employees who work there. Other employees of marketing department include marketing specialists and assistants. Their responsibilities and functions are various. They provide marketing research among existing and potential customers in order to know whether they are satisfied with the products and what is needed to be changed in order to increase the sales and improve customersВ' satisfaction and loyalty to the company. Marketing researches are provided via different sources, such as companyВ's social media pages where marketing specialists post questionnaires and other tools. They also use surveys of customers provided by assistants in boutiques. On the basis of survey results, different marketing plans are made. Marketing specialists of Domees are responsible for marketing and advertising campaigns of the company. For instance, they offer different discounts and other propositions in order to attract more customers. Furthermore, marketing specialists create advertisements for the company and its products. They develop several variants of ads, and most of them are either internet or printed. Finally, marketing specialists are responsible for administration of the companyВ's pages in social network websites. They post information about the products and discounts, interesting messages about different products, information about new products, and other useful messages to attract customers. They also communicate with the customers and answer their questions.
In general, functions of marketing specialists and marketing assistants are similar. Currently, there are five specialists and three assistants in the marketing department. However, assistants are mostly new employees with little experience in marketing. For this reason, they are watched by specialists, and thus learning how to perform different tasks related to marketing. They perform different functions on everyday basis, such as making posts in social networks and providing surveys among customers. However, marketing specialists are more experienced, and they are responsible for more difficult tasks, such as creating ads and planning new products to sell. Assistants help them with difficult tasks in order to train. If assistants work well, they become marketing specialists in one or two years.
A marketing manager, who was my supervisor, is responsible for leading all marketing specialists and assistants as well as approving and coordinating their activities. He distributes tasks among all marketing employees and approves advertising campaigns designed by them. Moreover, marketing manager gives pieces of advice concerning different marketing spheres because he has experience of about 10 years, and his recommendations are often helpful for marketing employees. Marketing manager is a professional who deals with his employees well. He provides different incentives for them in order to stimulate efficient work. For instance, employees get monetary benefits for creative ads that customers have found attractive as well as for good sales results of the company that became possible due to the marketing activities.
During my internship in marketing department, I performed different tasks related to marketing. As I was a market specialist, most of the tasks were typical of this profession. They included dealing with the marketing surveys, analyzing marketing data, and making marketing decisions related to particular markets (В"Marketing specialist job description,В" n.d.). I organized several surveys for customers and conducted them in several boutiques by asking questions. I also made surveys via social networks. Moreover, I analyzed data that was received via customer surveys in order to make marketing decisions. I analyzed what products they liked the most and the least and to what extent they were satisfied with the services of boutiques. Surveys also showed which products customers wanted to introduce and which of them should be removed as poorly demanded. Finally, I helped to make decisions related to markets. For example, I made recommendations to marketing specialists and assistants concerning introduction of new products as well as removing the existing ones if they were not demanded. I studied different marketing articles, websites, and news related to our sphere В– beauty products and accessories. They helped me to study current global and local trends as well as information about new products that can be introduced. Thus my internship tasks were similar to some activities of marketing specialists and assistants.
If compared to theory learned in class, my activities in marketing department were close to marketing theory I studied. However, there were some differences. Unlike theoretical knowledge, practice was more flexible and adapted to current conditions. In general, marketing employees were loyal to customers and paid attention to them. As a result, they persuaded me to act similarly.
How the University Prepared the Student
Al Yamamah University prepared me to the internship in several ways. First, this university provides high quality educational programs related to business and marketing thanks to the professors that have considerable experience in their fields of knowledge. Thus I obtained appropriate knowledge to understand my tasks in those fields and perform them on a high level. Second, Al Yamamah University cooperates with universities from other countries such as the USA, France, New Zealand, Germany, South Korea, Spain, and Sweden. Due to that, students can receive international experience that can be used in different spheres of their education and future work. Finally, Al Yamamah University provides high quality knowledge of the English language. Due to this, I was able to read and understand information related to my internship as well as use it to perform different tasks. For example, I was able to read and completely understand news on beauty products and analytics, published in English. In general, my education in Al Yamamah University was very helpful for my internship, and it assisted me in performing different tasks at a top level close to level of professional department employees.
Assessment of the Internship
What are the qualifications gained?
I have gained qualifications related to marketing during my internship with Domees company. I performed different marketing tasks and got experience in providing surveys among customers, analyzing their results, and making relevant marketing decisions that can benefit the company. Moreover, I improved my qualifications because I studied information related to the companyВ's products and markets.
What were the responsibilities?
As a market specialist, I had different responsibilities during my internship. To begin with, I was responsible for providing surveys among customers, analyzing data received from the surveys, and making marketing decisions based on this information. I was also responsible for decisions as to particular products that had to be introduced or removed. Moreover, I was responsible for studying current information related to the market and making reports according to this information in order to make marketing decisions based on current trends and demands.
Significance of Work Experience for Career Plans
My work experience with Domees company was significant as I became versed in marketing sphere. I received professional experience in making surveys among customers and analyzing results of those surveys. I also got experience in studying market information in order to make market decisions for the company. Finally, I learned to promotion and advertise products because I watched other employees working with those tasks. I plan to use this experience in my future career as I plan to work as a marketing specialist.
Significance of Classroom Knowledge for Internship Training
My training experience at Al Yamamah was very helpful during my internship. I used my knowledge related to marketing and business to perform different tasks, such as making surveys, analyzing market trends, and making decisions related to markets and sales. In addition, my knowledge of English helped me to study articles, statistics, and other information related to beauty markets as well as to analyze this information.
How it works
You order custom
writing service
We provide profound
research
Professional writers
develop your paper
We send the paper
to your e-mail
We check the paper
on plagiarism
We upload into your
account at our site
Conclusion of the Report
In general, I liked my internship experience obtained in Domees company. It was useful to me to improve my theoretical knowledge related to marketing and business spheres. Moreover, I improved my knowledge of English by reading professional articles related to marketing and beauty markets. Practical tasks performed during my internship were helpful as they added to my theoretical knowledge. Practice is always better than just theory. My internship experience can be used in my future career if it is related to marketing. I will be able to work as a market specialist in an international company of any sector, but beauty sector can be preferred as I have experience in it.
As for the company, beauty retail sector where it operates seemed prospective and interesting to me. Currently, it is growing and has good trends for the nearest future. Thus Domees company did correctly when focusing on the marketing activities because they can help to increase sales, gain higher market share in Saudi Arabia, and gain more loyal customers. As I participated in marketing activities, I also made a contribution to future positive performance of the company and its success in markets.
Place your first
order NOW
and get
15% Discount